Posted on Wednesday, May 12, 2021

Your vintage wedding in Champagne
You are looking for an authentic vehicle for your wedding? 
Let yourself be surprised at your wedding. Rent our vintage vehicle to make the happiest day of your life sparkle!
We will help you to plan this wonderful day. 
Do you dream of making a grand entrance to your guests?
Let yourself be guided by our pretty van Estafette Alouette! At My Vintage Tour Company, we invite you to give your wedding a little retro touch by renting our legendary French vehicle dating from the 1960s and 1980s. Our car will allow you to travel in style, comfort and safety thanks to one of our professional drivers available to you all day and who will take you to your various reception venues.
We give you carte blanche for the total customization of the vehicle: you can, for example, provide a floral decoration, as you wish. Its implementation will be done in close collaboration with the driver.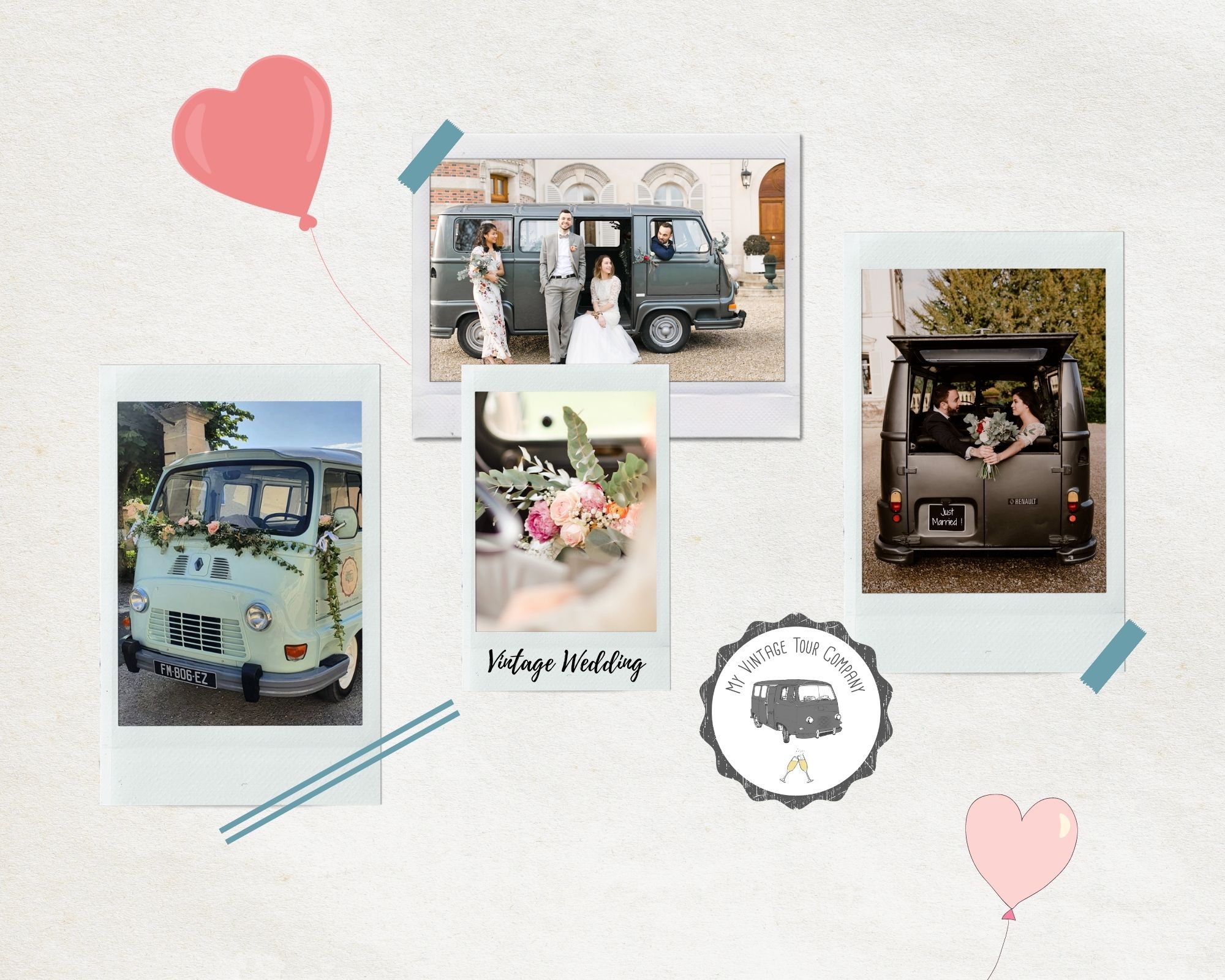 Do you want to share this moment with your guests?
No problem! Our vehicle can accommodate up to 7 passengers. It will be the ideal mode of transport, if you want your witnesses to accompany you on board, for example!
Are you interested in a photo shoot and a champagne tasting in the heart of the vineyards?
Depending on the location of your wedding, you may plan to stop with the Estafette in the vineyards for a champagne tasting as well as a unique photo shoot.
More questions? We answer them:
What services are included in the wedding package? We have several possible packages, depending on the duration and location of the wedding. 
How far in advance should I contact you? As soon as possible to be sure to have the desired date.
Is there a minimum rental period? Yes
Is there a maximum rental period? No
Additional services: A stop in the Champagne vineyards is possible to taste Champagne and take a photo shoot. We can take care of the decoration of the vehicle with our florist if you wish.
Do you bill per hour or per event? Per event.
How is the payment made? A 30% deposit is required to confirm the reservation. Payment can be made by online bank card or by credit card or cash on the same day.
Lovers of vintage and beautiful cars, do not hesitate, contact us! We will take care of making your wedding even more sparkling!
The My Vintage Tour Company team