The agency My Vintage Tour Company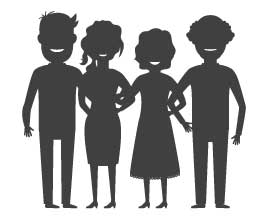 My Vintage Tour Company is the result of a superb family adventure. The idea of a sister & a brother… but not only! Each member of our family contributes to the development of our agency.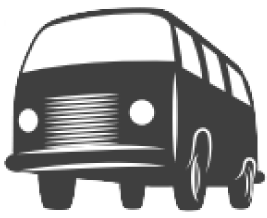 100% French vintage vehicles
from the 1960s to 1980s. In particular the mythical Estafette Alouette Renault which is an icon of French automotive heritage.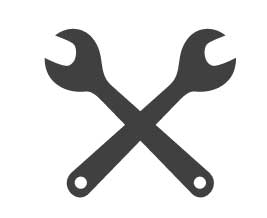 To ensure your safety, we are professional drivers (VTC).
Our vehicles are precious, we repair and overhaul them regularly.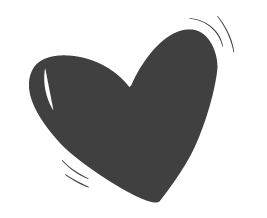 We are passionate about vintage vehicles and of course Champagne! To perfect our knowledge, we followed a training in oenology and we have the WSET 2 diploma.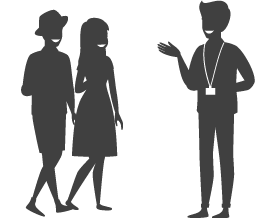 Natives from Epernay and in love of our region, will take you on an amazing experience full of anecdotes about the Champagne and the vineyard!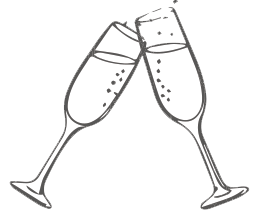 We create with you your dream experience in the Champagne region.
Our clients talk about us

Parfait ! Super balade ! Des paysages magnifiques, une guide passionnée et passionnante qui nous a fait découvrir sa région qu'elle connaît sur le bout des doigts !

Highlight of my trip to France The biking tour was the highlight of my entire trip to France. The countryside is so beautiful and easy to see on an electric bike. I'm an avid cyclist, but my husband is not and he had no problems competing the longer tour. You can use as much or as little assistance as you need on the bikes. It is very easy to comunícate with Romain and Cecile and I highly recommend their company.
Some tips: 1) if you are riding with others, check the battery indicators towards the end of your trip and swap bikes if one is going down more quickly than another. Some people use the battery more quickly due to size or how much assistance they need.
2) if you are visiting from overseas is to download the bike touring app while you are still on hotel wifi. Trying to download the large app is pretty time consuming when you're not on wifi.

Un merveilleux tour en estafette Un tour en estafette magnifique est très enrichissant, j'ai appris toute l'histoire d'Epernay et du champagne avec une très bonne dégustation et une visite de cave. Maëva est très sympathique, nous avons passé un merveilleux moment je le recommande à 100%
A refaire !

Great Champagne Experience in Vintage Vehicle We so enjoyed this trip around the villages near Epernay. The vintage van was comfortable and fun. Our guide was charming and very knowledgeable.
The two visits were great with generous tastings. A delicious lunch and stops along the way.

Final drinks in the vineyard with all the autumn colours was a highlight.

We would thoroughly recommend this for anyone who want to see some of the villages and countryside but not drive.

Amazing trip in the heart of the vineyards Brilliant sunset tour of the vineyards in lovely 'Suzie'. Ended up just the three of us and so nice to be amongst the vines after a day of tasting. Felt very personal and Maeve was a perfect tour guide. Would definitely recommend to anyone wanting an authentic experience.

A faire, vraiment ! Compliqué d'écrire ce que l'on a préféré tant tout était génial ! De l'amabilité de notre super conductrice, de ses explications, de son écoute et de ses petites attentions à l'accueil de la productrice de champagne, la visite de la cave et la dégustation de champagne en passant par ce véhicule vintage, tout nous a ravi.
A faire, indéniablement !!!!

DiamondGirl123
2022-10-12
Fabulous day! I could not recommend this company enough! The trip was organised by my friends daughter for her mums 60th birthday and we were a party of 11 ladies.We were picked up from our apartment at 9.30 in the morning and dropped off again at 5pm. We traveled all over the Champagne region with stops off at various places to sample the Champagne 🍾 we also had a delicious 'picnic' lunch which exceeded all our expectations! The brother and sister that run the company were great fun and very informative and they felt more like friends by the end of the day Book!! You will not be disappointed 😊

Meilleure expérience de tous les temps We had the most INCREDIBLE time with Maëva and her team. We opted for a private tour because there were certain houses we wanted to see as this was our first trip the region. Maëva was incredibly easy to coordinate with and was able to put to a truly unique and special experience for us. The vintage buses are too cute, and the entire day was perfectly timed and orchestrated. I would 1000% enjoy this experience all over again. I was already so excited about this part of our trip and we were completely blown away <3 thank you for making our time in the Champagne region truly unique and beyond memorable.

Fantastic! Far beyond our expectations. Drivers are incredibly knowledgeable about the area and so friendly. We had a brilliant day celebrating my Mothers 60th birthday and we could not have wished for more! The countryside was beautiful and we learned a lot about champagne (and tasted!). The lunch was also great. Highly recommend.
MAGIQUE GENIAL ! Un moment hors du temps, avec un guide/chauffeur passionné qui vous fera découvrir une magnifique région et les procédés de fabrication de ce merveilleux breuvage.
A faire absolument !