Our history
In love with the Champagne region and champagne …
Passionate about vehicles and vintage objects …
The idea of creating unusual visits in the Champagne region, by combining our two passions, was a family initiative.
My Vintage Tour Company takes you on a journey back in time to discover the champagne vineyards, the heritage of Epernay, Reims and their surroundings in a mythical French vehicle from the 1960/1980's.
The Estafette Alouette is an icon of the 1960-1980's in France.
As early as 1961 the "Alouette" was born, which could serve as a utility van in the week and as a people carrier at the weekend. You just needed to add benches, made of tubes and canvas, to turn the van into a car.
The Estafette became one of the symbols of the glorious thirty : the development of the economic boom and its transportation demands, the emerging need for a local service that exceeded that of mere delivery. It symbolised all these new flourishing signs and whose names were written in large letters on its flanks, always colourful and shiny.
And when it took on a dark shade, it became the Gendarmerie's vehicule, present at many crossroads to ensure the good operation of an ever developing automobile society.
Nowadays, this little van seduces everyone who crosses its path!! With its ultra comfortable seats and large glazed windows, it offers a perfect view of the vineyards : your ride will be unforgettable!
Come and join us in this mythical collector's vehicle on this journey through time, and discover the beautiful champagne landscapes.
Marie
RENAULT
Estafette Alouette
1980
8 passengers
Louise
RENAULT
Estafette Alouette
1980
6 passengers
Suzie
RENAULT
Estafette Microcar de Luxe
1973
7 passengers
Bleu
RENAULT
Estafette Alouette
1972
7 passengers
Jeannette
RENAULT
4 GTL Clan
1989
3 passengers
Ernest
CITROËN
2CV 6
1977
3 passengers
Our vehicles may at times be temperamental and play tricks on us… but don't worry!!! If this happens during your ride, a champagne flute will be offered to wait whilst the repair takes place or another vehicle comes to pick you up!!
" Discover the Champagne region in a unique way with My Vintage Tour Company! "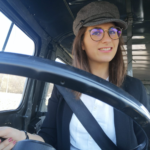 MaëvaCo-founder of My Vintage Tour Company
The Champagne region
Since 2015, "Champagne hillsides, houses and cellars" are listed as World Heritage site by UNESCO.
The Champagne region is one of the most prestigious vineyards in the world!
Located in the heart of the vineyards, Epernay enjoys an exceptional location.
Champagne listed as World Heritage
On 4 July 2015, in Bonn (Germany) the UNESCO World Heritage Committee took the decision to include the "Champagne hillsides, houses and cellars" on its World Heritage list.
The champagne vineyards represents 4% of the French vineyards and 0.4% of the surface of the world vineyards.
The Champagne region, famous all over the world for the quality of its sparkling wines, is one of the most atypical French vineyards.
kilometers of underground cellars in Epernay