Publié le Mercredi 30 décembre 2020
Sparkling New Year's Eve
2020 is coming to an end and we don't mind it! It's time to toast the New Year, which arrives in a small group but with a lot of bubbles!
To spend a sparkling New Year's Eve and start 2021 off right, bet on the king of celebration: CHAMPAGNE!
Here are our ideas for a memorable evening: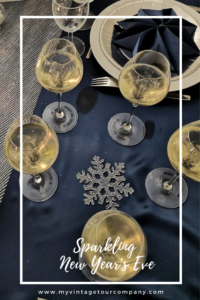 For us, Champagne is perfect without tricks, no need for additional ingredients to have magic in our glass! But for a special occasion like New Years', we are ready to change our ways to start the evening on an amazing note! Surprise your guests from the aperitif!
The Champagne Soup: a safe bet that appeals to the greatest number!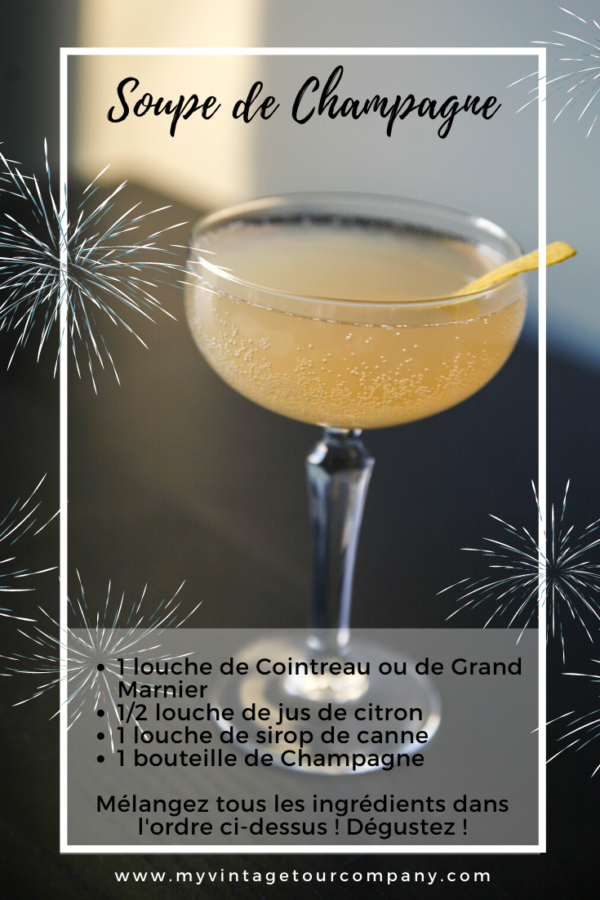 The French 75: a refreshing cocktail, perfect to start the evening!
Experience shows that the ideal temperature for the consumption of Champagne is 8 ° to 10 ° C for a non-vintage Champagne and 10 ° to 12 ° C for a vintage Champagne!
Below 8 ° C, Champagne will be too cold and will have an anesthetic effect on the taste buds, the cold indeed limiting the aromatic perception. Above 12 ° C it will be less lively and heavier.
Food & Champagne pairings
A meal entirely in Champagne? Yes, but be careful to match your cuvées with your different dishes!
The entrance:
A plain or Extra-Brut Champagne Brut will go perfectly with your iodized foods such as seafood, oysters and salmon!
For the foie gras, prefer a Champagne Blanc de Blancs (100% chardonnay), an old vintage would be ideal. However, if you usually prefer sweet or syrupy wines with foie gras, you can try the demi-sec Champagne! Indeed, no need to choose between sugar and bubbles, both will delight gourmets!
Do you know the 'Trou Champenois'?
To be served between the starter and the main course is a tradition in Champagne. And the recipe is very simple, you just need Marc de Champagne sorbet or lemon sorbet and you just need to add a drop of Marc de Champagne on your ice!
What is Marc de Champagne? A brandy of Regulated Designation of Origin (AOR) is obtained by the distillation of destemmed grape marc, coming exclusively from the Champagne vineyards.
The main course :
A Champagne Blanc de Noirs (made from black grapes, Pinot Noir, and/or Meunier) Brut with roast poultry will be perfect!
And opt for a rosé Champagne for an astonishing and tasty association with your red meats!
Cheese :
A Brut Champagne with the 3 grape varieties will go very well with cheese with a bloomy rind and uncooked or cooked pressed paste such as Cantal, Saint-Nectaire, Comté, or Emmental.
An Extra-dry or Dry Champagne will go rather well with fresher cheeses such as Goat.
Dessert :
For a dessert with red fruits, you can choose a very fruity Rosé de Saignée Champagne.
Our advice should delight your guests! However, each palate is different and the most important is your personal experience, you have to test several agreements to find out what best suits your tastes!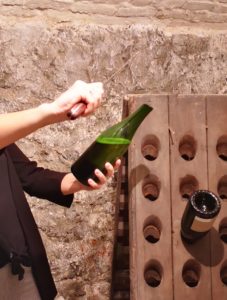 The sabrage of a bottle of Champagne is an old tradition that consists of breaking the top of the bottle with a saber! A very festive and perfect way to open the bottle for the New Year!
History says that this tradition dates back to the Napoleonic Wars. Besides, Napoleon Bonaparte himself would have said: "I cannot live without champagne, in case of victory, I deserve it; in case of defeat, I need it.".
Be careful before you start, you must have the right technique to succeed in your sabrage. If you want to learn this technique, do not hesitate to book your experience in Champagne with us! And if you can't come, discover our online experience to learn the art of sabrage directly from your home!
3.., 2.., 1! Happy New Year!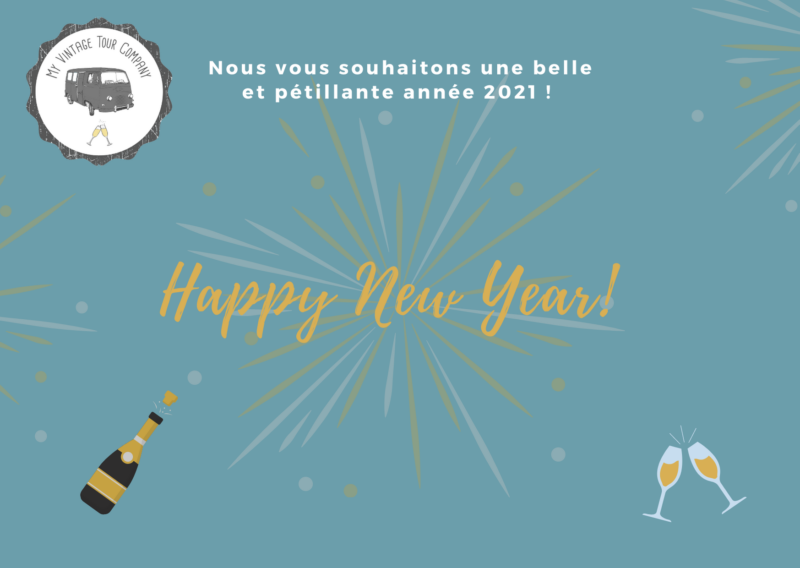 See you in 2021 for new adventures with our collection vehicles! We hope to be able to welcome you quickly to Champagne to discover our beautiful Champagne region! Take care of yourself and your loved ones!