My Local Wine Guide
We are pleased to inform you that My Vintage Tour Company is part of the 100% local, 100% expert, and 100% wine network: My Local Wine Guide !! 🍷😉
A good way to discover France and its vineyards by calling on the services of wine experts and their territory! In addition, all members are members of Atout France and have the authorization of professional drivers.
Discover the members of the network below, do not hesitate to contact us if you wish to visit several vineyards in France. We will offer you an all-inclusive stay with members of My Local Wine Guide.
Meet Benoît in Alsace!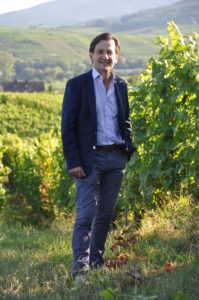 After a career in international sales management for large companies, I decided to create an
incoming travel agency fully dedicated to Alsace and to devote myself to my passions: cultural
tourism, wine & gastronomy, and meeting people!
I pride myself on offering exclusive & private tours and other services including off-the-wall activities
to demanding travelers. My tours are fully customized to meet your expectations and my goal is to
make you live a unique experience! You will meet authentic, generous, and passionate people, and
broaden your knowledge of wine and fine food.
Through my international experience, I have developed a true passion for meeting people from other
cultures!
Let me unveil for you the soul of this welcoming region—a region which is so dear to my heart and
which has become my passion… Welcome to Alsace!
Contact:
+33 (0)6 38 41 44 86
contact@magnific-escapades.com
Meet Nicolle in Bordeaux!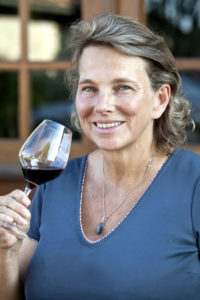 With SIP Wine Tours discover the real Bordeaux, the classified châteaux but also the region's best smaller producers where we get face-to-face with the winemaker.
Bordeaux is known for its Grand Cru Classé Châteaux, and we will visit these, but the real heart of Bordeaux is their 'petits producteurs' the SIPS – Small Independent Producers. With over 30 years of experience in Bordeaux, and on the 'inside track' (being married to a St Emilion wine producer) Nicolle is certainly able to take you off the beaten path to reveal some inside secrets and let you discover some wine treasures.
Be it on the Right Bank on the rolling hills around the medieval village of Saint-Emiliion, or the flatter Left Bank with its grandiose châteaux in the famous villages of Margaux, Saint-Julien or Pauillac – the complexity of this world-renowned wine region will be unravelled for you in a day or two day unforgettable wine tour of the Bordeaux region.
Contact:
+33 (0)6 81 87 93 94
nicolle@sip-wines.com
Bordeaux Wine Blog since 2007 www.nicollecroft.wordpress.com
Author of recently published book Wine Guide 'Bordeaux Sip by Sip' (Editions Sudouest)
Meet Robert & Joy in Burgundy!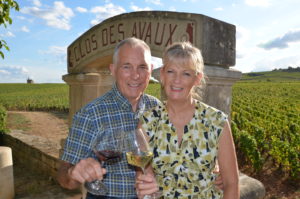 Uncover the true Burgundy and unravel the complexities of its terroir, history and tradition. With Burgundy Discovery, you will do just that. Walk and drive through the vineyards as wine lists come to life; meet small family producers, many following 6 generations of winegrowing tradition; taste amazing organic and biodynamic wines, rare to find outside the region. Whilst we have 4000+ vignerons, very few open to the public for tasting.
Based in Beaune, our tours are private and personalised, for individuals or groups, informal, informative and fun. Established since 2003, we have built great relationships and love to share our in-depth knowledge and enthusiasm for Burgundy and its wines, food and lifestyle. We look forward to sharing it with you!
Contact:
+33 (0)6 38 53 15 27
info@burgundydiscovery.com
Meet Carine in Montpellier!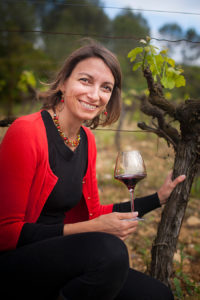 With
Montpellier
Wine
Tours
 discover 
 the sheer variety of our Languedoc wines and vineyards
 around 
Montpellier
. During a tour through exceptional landscapes, the winegrowers of the most beautiful 
wine
 estates in the region open their doors to you. Discover the variety of our terroir, taste the wines and share a moment of conviviality thanks to our day and half-day 
tours
 lead by passionate local guides. For a unique experience, we also organize your tailor-made 
tours
 with a lunch or a picnic, accommodation, a cultural or gastronomic visit (cheese dairy, oyster farm, oil mill …) Also try out our fun 
wine
 activities for groups: treasure hunt at the château winery, introduction to 
wine
 tasting, cycling in the vineyards…
Join us to taste the secrets of the terroir!
Contact:
+33 (0)6 95 16 25 61
info@montpellierwinetours.com
Meet Audrey in Provence!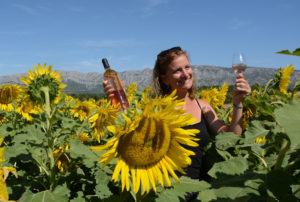 Vignévasion, wine tourism agency, invites you to discover the "real Provence"!
Our main focus are 2 types of activities:
Trip for individuals, who want to enjoy full or half a day tour in Provence. Join us in our comfortable 8 seater mini van for your wine tour. We arrange for you to meet passionate winemakers, producers of local and authentic goods and see some of the most beautiful villages in Provence.
Are you planning bigger event for your colleagues?
We can manage it entirely. What is our asset? An incomparable knowledge the region and exclusive contacts with local producers who love to share their passion. We know places with a barn or a nomad tent for your party, family owned and unique wineries, boutique hotels and many more! We plan a memorable event for you with the environment in mind, to preserve our marvelous region and its treasures.
Live a unique, gastronomic, and authentic experience in Provence with us!
Contact:
+33 (0)6 22 67 09 53
audrey@vignevasion.fr
Meet Irène in Cognac!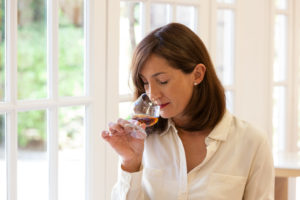 XO madame, Exclusive Cognac Experiences and Tour
As a designer of experiences in the wine & spirits hospitality sector, we are here to help you organize visits and events in the vineyards of Cognac.
For individuals and groups, XO madame creates tailor-made stays.
For companies, the agency organizes team building activities, incentive events, seminars, and conferences.
In order to create a unique experience, we offer a complete range of "A la carte" services: Cognac Houses visits, meetings with winegrowers, distilleries and aging cellars visits, tastings, picnic in the vineyards, a gastronomic diner in a distillery, wine tours, discovery of the vineyard in vintage car or e-bike, Qi Gong in the vineyard…
Whether you are a couple, a family or a group of friends, a group or a company, an expert or a novice, coming for a day, a weekend or even a week, we will adapt to suit any taste and make your experience in the vineyards of Cognac an unforgettable moment.
Contact:
+33 (0)6 08 85 95 42
contact@xomadame.fr
Meet Sonia in the Golfe de Saint-Tropez!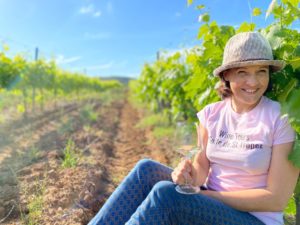 Because in the Gulf of Saint–Tropez there is not only the beach, the espadrilles, and the Tropézienne, Sonia takes you to the discovery of a part of the largest wine designation in France: the AOC Côtes de Provence covering more than 20,000ha and of which the Gulf of Saint Tropez is part.
With more than 30 wineries ranging from very famous names such as Château Minuty, Château Barbeyrolles to more confidential wineries like Domaine de La Madrague, Domaine de La Tourraque, you will be traveling, in any case, mythical roads a few kilometers away from the beach of Pampelonne or the village of Saint–Tropez! Departures in 2CV, in mehari, with your vehicle, a minivan, ebikes, horses… for a half-day, for a day, for an evening, with a cooking class… by the sea, in the plain of Les Maures… everything is possible in the Gulf of Saint–Tropez!
And if you prefer to stay at home, Sonia also offers initiations to the tasting of rosé wines from Gulf de Saint–Tropez at home within the Gulf of Saint–Tropez. Private tours, tailor-made, initiations for individuals and professionals.
Contact:
+33 (0)6 32 44 72 35
contact@beyondthewine.fr
Meet Maëva in Champagne!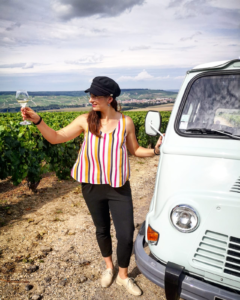 My Vintage Tour Company takes you on a journey through time to discover the Champagne vineyards, the heritage of Epernay, Reims, and their surroundings in a legendary French vehicle from the 1960s / 1980s: an Estafette Alouette Renault.
We are committed to helping people discover the winegrowers who craft Champagne from generation to generation with passion, and who share their know-how and traditions during a visit. On the program of our tours in small groups: Champagne tasting, stops in the vineyards to admire the most beautiful views of the region, cellar visits, harvest day, picnic in the vineyards, introduction to sabering, and many other activities memorable to do with family or friends.
We also do private tours, tailor-made for individuals (Bachelorette party, wedding) and professionals (seminar, team building). The goal is to create with each customer the dream experience to have a sparkling moment!
Come and live an unforgettable experience with our passionate local guides and vintage vehicles during your stay in Champagne!
Contact:
+33 (0)6 64 33 93 84
contact@myvintagetourcompany.com